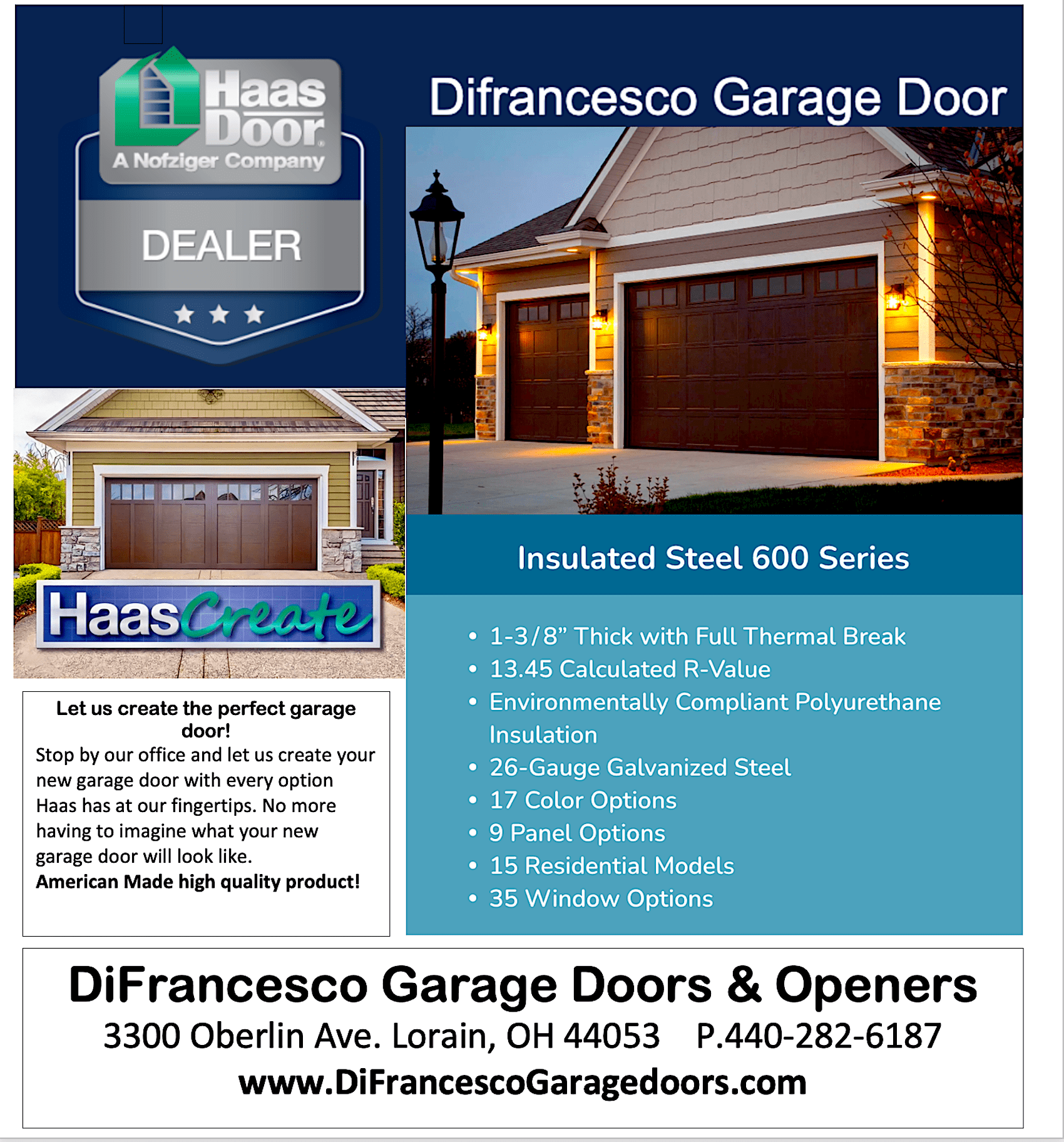 Garage Doors from DiFrancesco Garage Doors: The Best Return on Investment
Replacing your  residential or commercial garage door in Lorain County is the single best home improvement project when it comes to your payback. According to the 2019 Cost Versus Value Study coordinated by Remodeling Magazine, a garage door replacement returns a whopping 97.5% of the investment cost for a homeowner. That's the highest recoup value of any home improvement project in the study. To put it plainly, if you invest $3,000 in a garage door, $2,949 of that is added to the value of your home.
Reasons to Replace Your Garage Door 
1. Garage doors are a critical part of your home's curb appeal. Whether you're looking to stay or sell, your home's overall appearance benefits from a new garage door.
2. On a daily basis, your garage door is often the single most used door in your home. Having a newer garage door makes it more pleasant to exit and re-enter your home. Plus, a more modern door can be safer and more reliable than an older door that is past its prime.
3. Newer garage door models are more energy-efficient than older versions. With more insulating value, today's garage doors help you save on your home energy bills.
4. Today, steel and aluminum garage doors are made more durable than ever and are available in endless style options, from deeply embossed wood grains to custom colors. A new garage door can be ordered to complement any home's exterior.
5. They enhance your home's privacy without sacrificing style. Decorative and specialty glass windows are available in a wide range of styles, including obscure glass options to protect your privacy.
DiFrancesco Garage Doors & Openers is the residential and commercial choice for sales, installs, repairs and service for garage doors in Lorain County Ohio and surrounding areas. We specialize in all types of the garage doors and repairs and are considered an authority in the field.  We strive to meet and satisfy the demands of every customer. We bring speedy, and professional garage door service that you can count on and  cover our work with our 100 % Customer Satisfaction Guarantee.  We offer same day  2 services. With the owner and many employees having over 30 years in the  Garage Door industry  we expertly treat every customer as family. No one person is more important. We help everyone in the same professional manner.
Our company motto, with only American Made and highest possible quality products used:
"We are not the cheapest choice, but the right choice!" Call 440-282-6187. Better Business Bureau A+ rating. Since 1971.